My friend recently imported a container straight to Winnipeg. He was one of the people in the container I brought in... so I guess he's hooked.
Anyway, I took a day off work to help him out for the unloading and transportation of the trucks. He followed approximately the same process as last time (see that here), with a few changes.
He went through Brave Auto International, which works the best for container shipping because they offer free car storage in a fenced in lot. Shipped 'to the door' by Hanjin, and import documentation by Al Thompson.
BUT... Canada Border Inspection Agency threw a wrench in the works. They decided they needed to visually inspect the trucks while they were being unloaded. Last time we unloaded at Willm Craning.... but they're not bonded... meaning the container couldn't be unloaded there. So, the hunt was on. He (and I'm not certain how) found Locher Evers International (115 Paramount Rd, Winnipeg), who was willing to unload it into their warehouse. At Willm's we had to unload the container from the chassis, but Locher has a dock.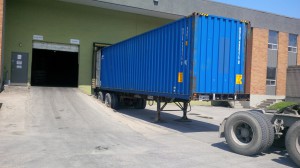 So... what was in the container? 5 kei trucks, and 1 kei van. I belive 4 of the trucks were hijets, 1 suzuki, and a MAZDA SCRUM!!!!!! And it was awesome.
I didn't get a picture of the trucks in the container (I wasn't there), but they were pushed up on each other, so they were given cardboard on the front to protect them.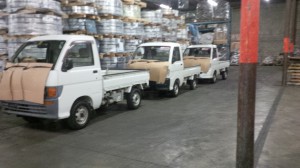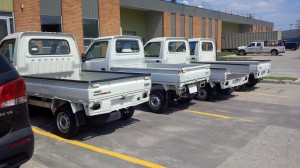 The Scrum was hilarious. It was a 660 turbo 5 speed, and the turbo was LOUD. My favourite part was popping the hood. The van is a cab over, so the engine us under the front seats. The hood is just access for maintenance.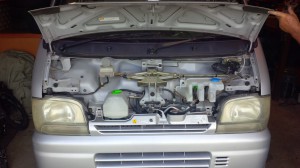 Anyway, it was fun day, and it's always exciting to see brand new imports!