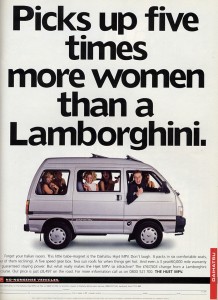 I found this ad, and have to share.  For those of us that have 'highly functional vehicles' this is very very funny.
This is also funny since this ad is apparently from 1996. If anyone from the UK sees this they'll think it's old hat. For those of us that are just discovering this market, it's new, fresh and different.
I've been thinking about that for the entire site.  All (well, most) RHDs in Canada are at least 15 years old. People from RHD countries must think we're crazy for getting excited about these old cars. But again, these cars are new to our country and have lots of personality.
Funny story.  I ran into a Japanese acquaintance and showed them photos of my truck, thinking that they'd be excited and think it's funny.  To my surprise they thought it was stupid, and asked me why "I'd by a dumb old truck like that."  After my feelings were less hurt I thought about it, and they're right. It is old and dumb... to them. In Japan, my truck would not likely be someone's daily driver, but a work truck. Here it's a novelty and fun.
At any rate, if you've got a right hand drive here in Canada, be proud! Even though it's 15 years old.  Call it a fine wine; better with age.
rob