I've had my truck for about a year now. Here's my experiences driving a Daihatsu Hijet in Winnipeg for a year as a daily driver.
I've been lucky, and have had no issues with 'the fuzz'. I often get looks, but my truck isn't exceedingly fast or sporty-looking so they usually just keep on going.
I've gone through one Manitoba winter with my Hijet now. The truck came with 12" rims and tires the truck came with did manage to get me through, but I wanted to upgrade. First issue - 1990-199something Hijets have a 4x110 bolt pattern. A guy who sells tires and rims for a living told me that there is no such thing as 4x110 bolt patterns. Solution - I managed to find 4x110 13" rims from a 86ish Mazda RX-7. Looks pretty cool now. Second issue - except there is a hub on the front axle that the rim wouldn't fit over, so I had to bore out the hub on the rim to get it to fit over. Not especially fun.
Having 4x4 on such a light vehicle was a boon on ice-covered roads. My acceleration was outstanding. I but on 175/80R13s so I have a lot more meat on the tires than before, which has given the truck absurdly good handling.
What about on the highway? Heh. I have the 4 speed model. It can go 100km/h, but it's revving pretty high. If you want to do a lot of highway, you should aim for the 5 speed. I've probably put on about 10-12 hours on the highway.... and it's ok.... but it's not 'good'.
How powerful is the 660cc motor? Surprisingly not bad. The truck weighs nothing, which helps. I put a pallet of sod on the back and it... uh... moved. Which was good. I think the truck doubled in weight and it still was pretty ok. I was quite impressed. The Hijet is truly an truck and can really hold it's own. I saw a F150 pick up approximately the same load with only a little less troubles.
Would I buy another one? Yes. I actually want a Hilux Surf now... but I love my little truck.
Any other issues so far? No? The parking brake light is staying on right now... I just need to tighten a spring and that'll go away. I need to change the oil filter, but just got the part number for that (Mastercraft 17-1747).
Overall, I'm super impressed. I wish they would sell something like this here in Canada new so we're not limited to 'old' vehicles.
rob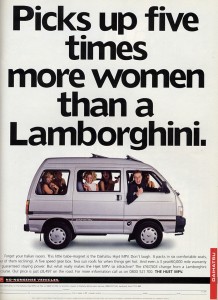 I found this ad, and have to share.  For those of us that have 'highly functional vehicles' this is very very funny.
This is also funny since this ad is apparently from 1996. If anyone from the UK sees this they'll think it's old hat. For those of us that are just discovering this market, it's new, fresh and different.
I've been thinking about that for the entire site.  All (well, most) RHDs in Canada are at least 15 years old. People from RHD countries must think we're crazy for getting excited about these old cars. But again, these cars are new to our country and have lots of personality.
Funny story.  I ran into a Japanese acquaintance and showed them photos of my truck, thinking that they'd be excited and think it's funny.  To my surprise they thought it was stupid, and asked me why "I'd by a dumb old truck like that."  After my feelings were less hurt I thought about it, and they're right. It is old and dumb... to them. In Japan, my truck would not likely be someone's daily driver, but a work truck. Here it's a novelty and fun.
At any rate, if you've got a right hand drive here in Canada, be proud! Even though it's 15 years old.  Call it a fine wine; better with age.
rob